Im probably writing this out of one-sided perspective, so Im warning you.
Tonight we've been running into Phoenix Alliance fleets over and over. The same fleet which proclaimed they won over us on the EVE-Online public forums. The very same fleet which claimed they totally wtfpwn3d us back to empire.
We've taken their stragglers one by one and reducing their numbers. We've had more of them explode and no losses of our own. Except if we count suicide jump-ins to scout with a frigate, or the people interceptor-people who got accidently blown up by our own POS.
Now, they've jumped into our POS's far more and had several battleships explode. I can count to at least 7 now, some assault-frigs, cruisers and what else.
Earlier today we jumped in on their 20 man fleet with only 3 ships. We took down a cerberus and got out with structure-damage.
-irony-
Indeed, Phoenix Alliance. You ARE "pwning" the R.I.S.K strikeforces.
Indeed, we are sobbing back in empire.
Indeed, we will run and keep running.
-/irony-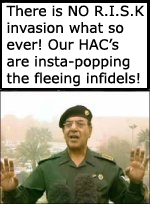 P-A_BOB