Hello all, I'm pretty new to EVE (~1 month) but I've come to visit this site pretty regularly since discovering it. I pretty much owe my PvP bloodthirst to you guys! Now, I'm not a pirate - actually my corp is rather anti-pirate & bounty hunters (among that, targeting pirates with bounties) - so keep this in mind as I tell you the story of my first kill as a pirate hunter. As you'll see, it involves desperation, subterfuge, and liberal cajoling. Enjoy.

I'm hanging out in my local .4, looking for trouble. I have a few safespots set up, and I've been shuttling between them in my blackbird for an hour or so, scanning the belts for likely targets while keeping an eye on local. The crowd is all positive or 0 sec status, so my pickings seem pretty slim as far as bad guys to fight. I decide to head to a station to dock and call it a day, so I warp on over.

Cleared for publication by: Ander
Rest of story moved to extended body.


As my ship drops out of warp, I notice a lone merlin sitting in space. I neglect to approach the station to dock, as I'm busy getting info on the pilot to see who he is. As I'm doing this, I notice him start moving... whoa, that's weird, he's approaching my ship. On a lark, I lock him for fun, maybe half hoping he'd panic and fire on me and provide me with sentry gun entertainment. Unsurprisingly, he locks right back as he starts orbiting my ship. At this point I know that he's an 8-day old character still in the learning corp. "Hmm," I wonder, "
does
he know about the sentry guns or doesn't he...?" Now, being the mean old coot that I am, I attempt to bait him in local:
roadrage639 > hi
happyapples > don't shoot me
happyapples > i'm not set up for fighting you'd kill me
And then...! What does he respond with?
roadrage639 > i no
roadrage639 > pay me and i wont
happyapples > i don't have any money
roadrage639 > tough
happyapples > please don't blow up my ship i don't have any shield stuff on it
roadrage639 > 1 mill or die
Okay... so either he bought my spiel and is looking to make some money off of it, or he's betting that
I
don't know about the two nice sentry guns sitting by the station. We both bullshit each other some more:
This goes on for a while, getting pretty ridiculous, with the lies on both sides piling up fast. After an eternity (probably only 5-6 minutes) of waiting for him to blow up my ship, I decide that it's not happening and he is wise to the sentries. I give up and proceed to warp to a random belt, figuring on hanging out a bit more in system before logging off.
BUT WHAT IS THIS?!!!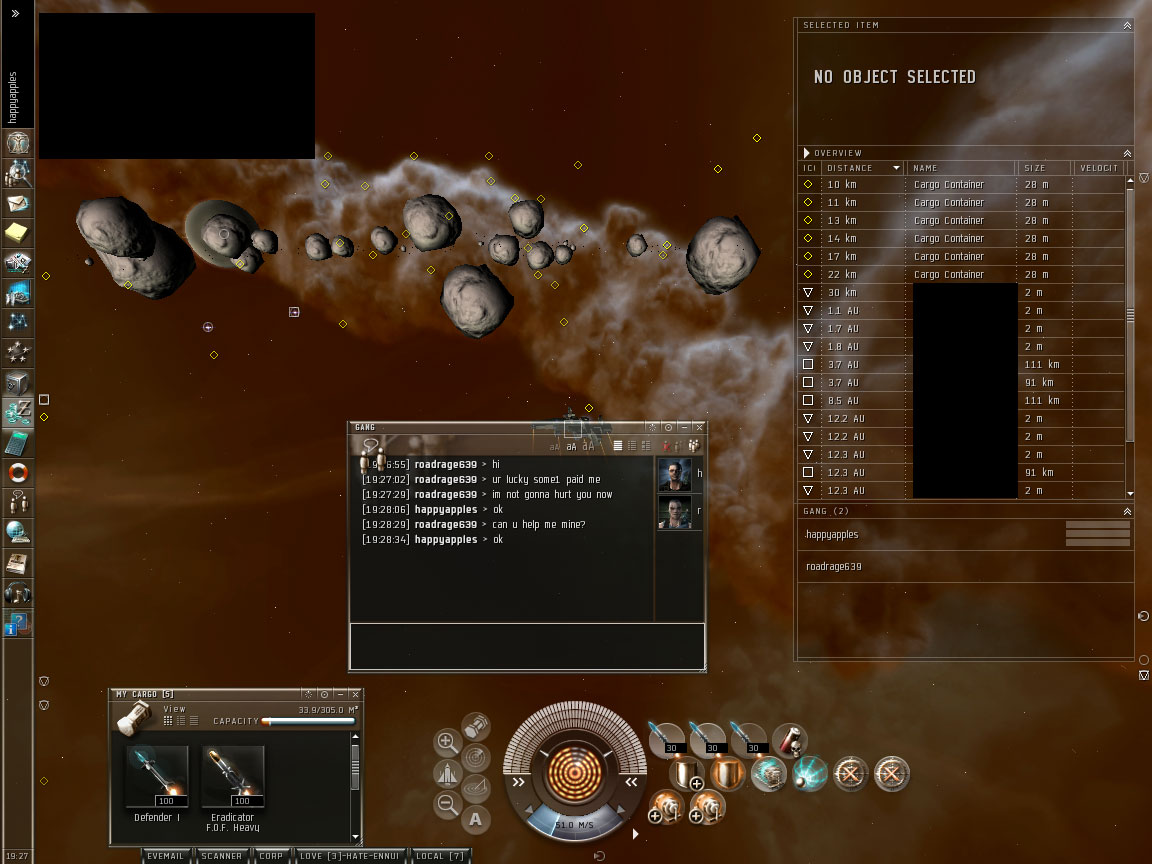 A gang invitation pops up on my screen! Can it be true? Can it be so easy? What on earth is he thinking? My erstwhile bullshitter has invited me to his gang! With much glee, I accept his invitation.
Of course he warps to me right away. I waste no time. We both lock each other at the same instant, but his lock dissolves immediately to my twin jammers. Within seconds his ship and weapons systems are bound, gagged and helpless. I unleash EMP hell.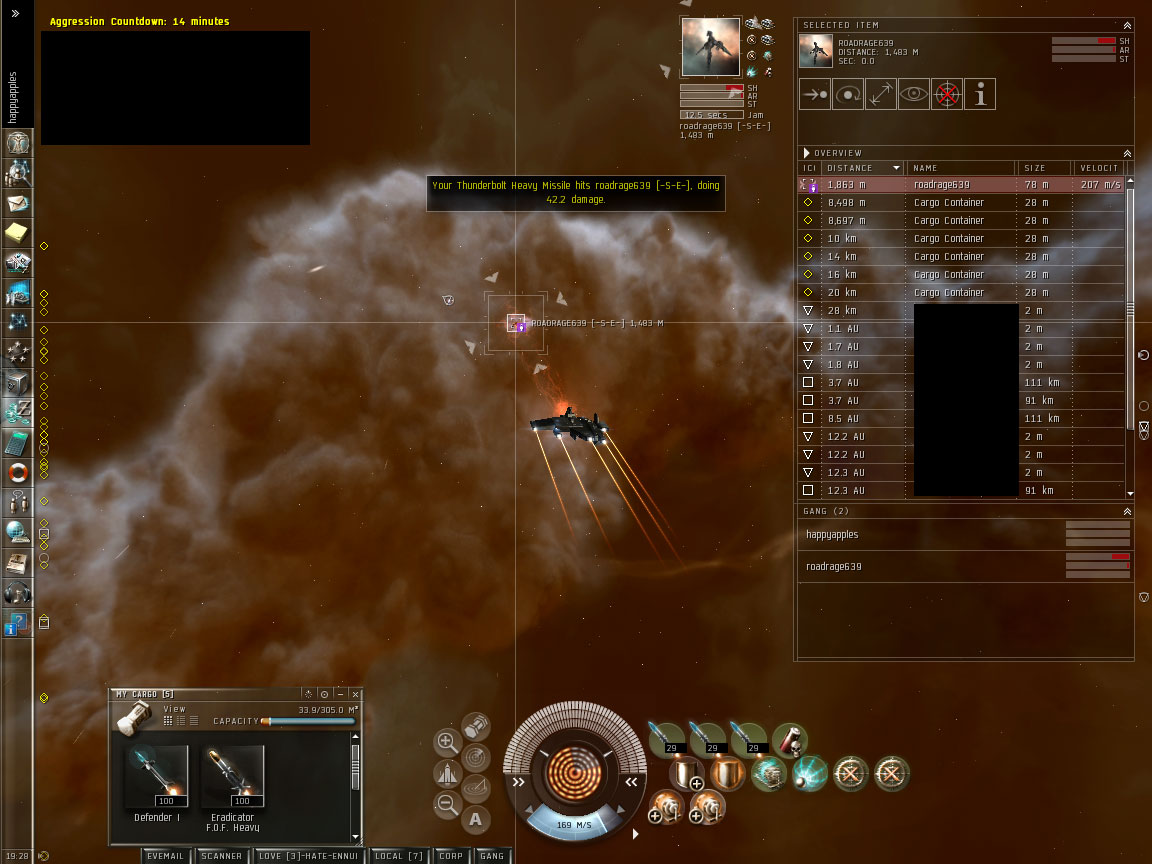 Some NPC Guristas show up to join the party. Meanwhile, my gangmate is trying to get me to ransom him.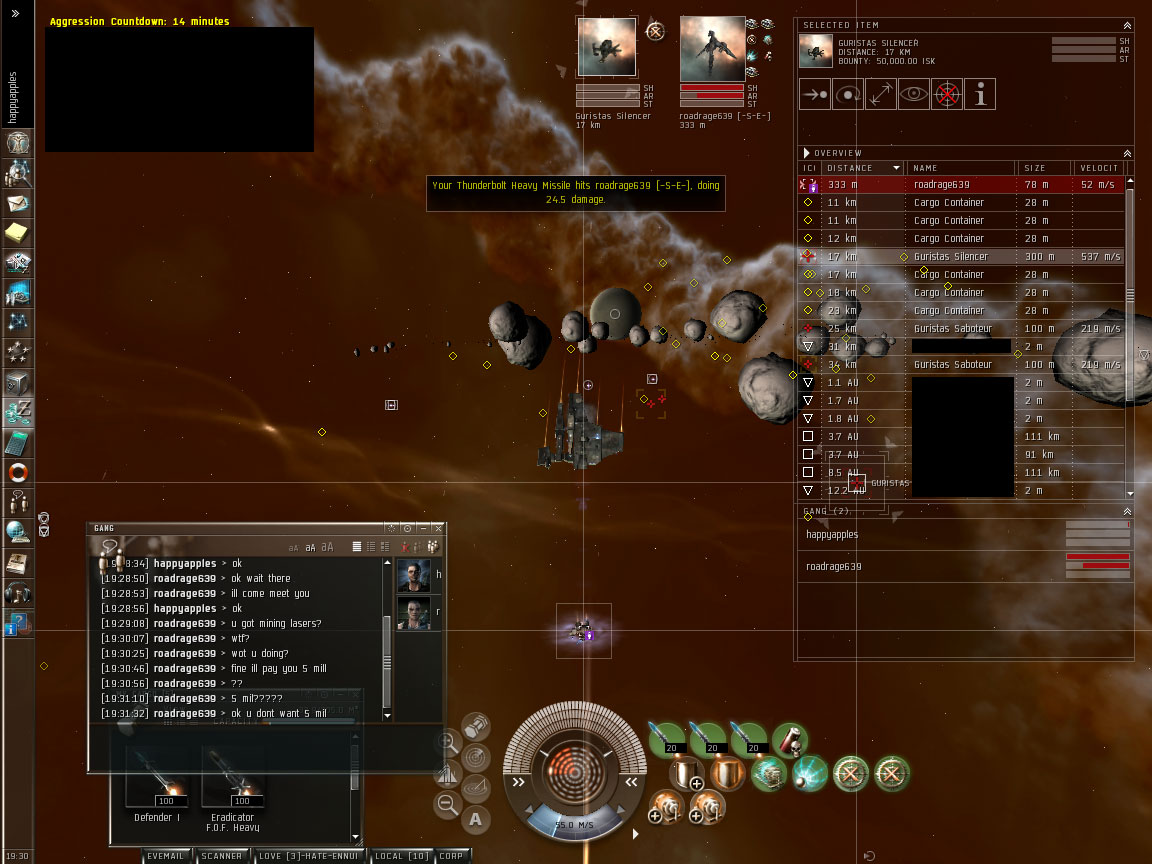 It tempts me for half a second, but I realize that 1. I'm not a pirate, I'm an anti-pirate, so on principle I can't accept, and 2. He's bullshitting again anyway. No way would anyone pay to save a merlin.
As the final salvo of heavy missiles hits and his merlin explodes into a fine mist, I muse to myself that he and I are not really that different. Each an opportunist, each glibly fibbing to further our own ends. The only reason I prevailed was that for some reason, my opponent decided that his merlin could outshoot my blackbird. Am I really, then, so much of a better space citizen than him merely because he assumed the role of "pirate ransommer" first? And would he even have done so if I had not baited him? Clearly, this particular pirate kill walks on that thin line between killing pirates and killing for sport. I tell myself that in the future, I will stay out of such gray areas and not be such a temptation for noobs to do space-evil.
I don't try to lock his pod, and watch it warp away.