Log in for a while to do some Macro Miner killing when one of our members mentioned he recruited 3 new people. Ok, I thought, Cool. More people to mess with.
Well. One logs in and asks for money and access to the corp hanger. Sitting there thinking, sounds fishy... Well, when I checked his profile, he created the account (estimation) at 0500 11-24-2006 and joined the corp at 0630 the same day. He later claims he created his account 23 hours ago and continues on how he is good at whatever and claims to have a cruiser in 6 hours after having Spaceship Command 3 and Amarr Frig 3 (he is amarr btw) after a couple minutes we are talking to him, our Director (2nd in Command) logs in. We invite him to a little convo with the current corp members that are online. and we tell him what we know of him.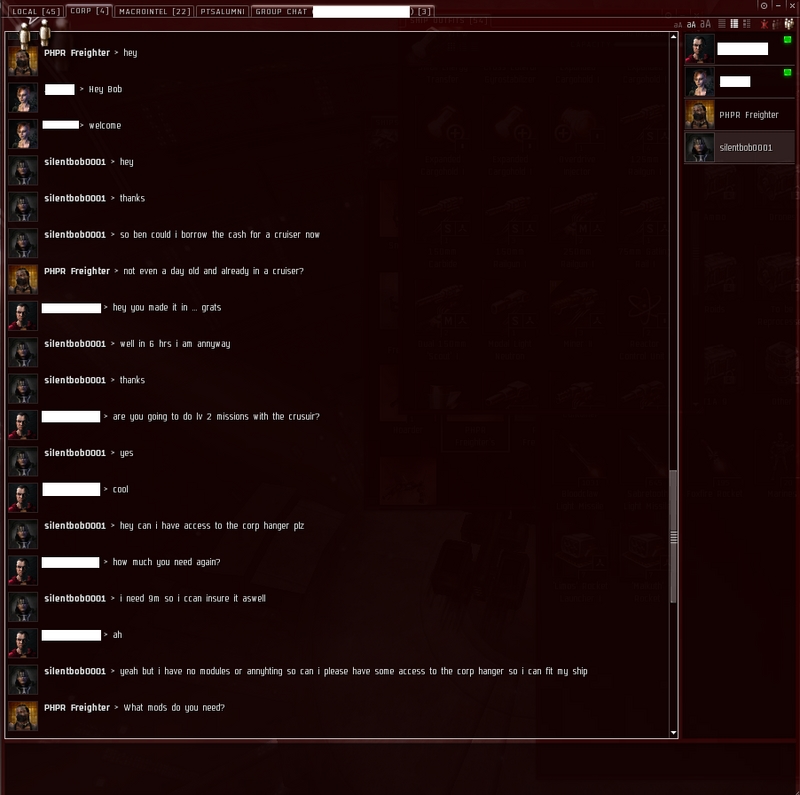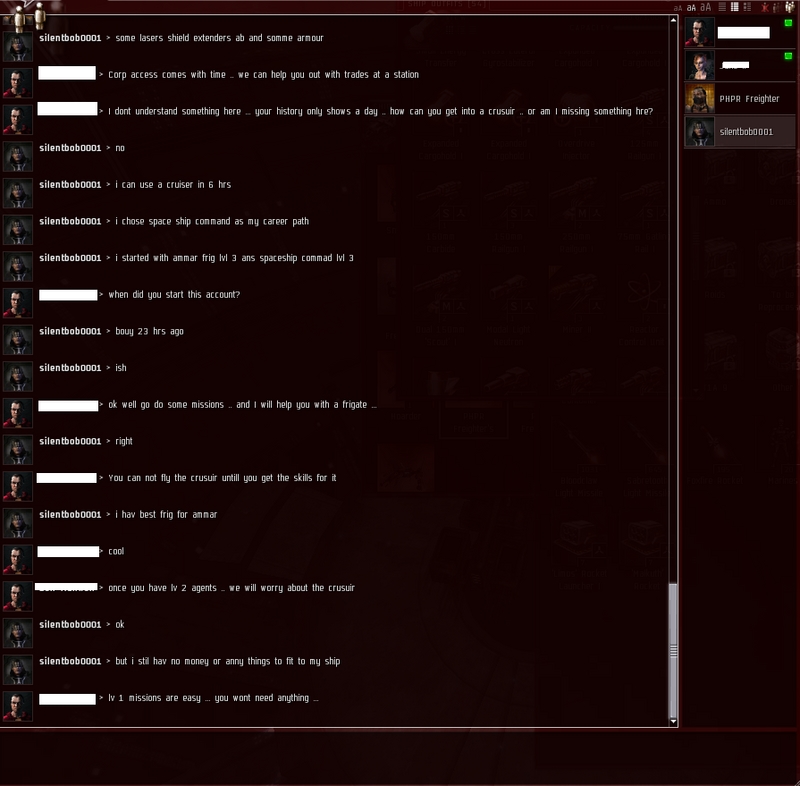 So I asked our Director if I can blow up his ship and pod. He said I can and that night... Met him at Josameto(sp?) planet 5, but logged out due to "lightening striking his backyard"
So earlier today (11/25) I met with him, he looted my can, and I put 2 pts of scramb on him, nossed him and blew him up. I had insurance on my rifter on a payout of 280k, and bout it for 269k, so pretty much being paid to kill him. Anyways. I ate through his pod and waited the 2 mins (no kidding) for concord to blow me up. I should have set an instant to the station warped and docked and waited for my criminal flag to count down. But I was stupid and didn't do so in time.
And after I podded him, lots of smack talk of "F-you you F-er" and "I hope you die a horrible death you M-F-er" etc and along those lines. This would be the first time I had ever podded someone, took a massive hit on sec rating and couldn't stop shaking for the next hour. It was excellent. Same rifter setup as before.
And here are the kill mails.
2006.11.24 21:35
Victim: silentbob0001
Alliance: NONE
Corp: Ministry of War
Destroyed: Punisher
System: Josameto
Security: 0.6
Involved parties:
Name: PHPR Freighter (laid the final blow)
Security: 0.5
Alliance: NONE
Corp: ----------
Ship: Rifter
Weapon: 200mm Light Gallium I Machine Gun
Destroyed items:
Dual Light Beam Laser I
Dual Light Beam Laser I
Civilian Shield Booster I
Multifrequency S
Multifrequency S
200mm Reinforced Nanofiber Plates I (Cargo)
150mm Railgun I (Cargo)
75mm Gatling Rail I (Cargo)
Survey Scanner I (Cargo)
And for the Capsule:
2006.11.24 21:36
Victim: silentbob0001
Alliance: NONE
Corp: Ministry of War
Destroyed: Capsule
System: Josameto
Security: 0.6
Involved parties:
Name: PHPR Freighter (laid the final blow)
Security: -0.8
Alliance: NONE
Corp: -----------
Ship: Rifter
Weapon: 200mm Light Gallium I Machine Gun
Cleared for publication by: Ander